Take control of your privacy
The TulaByte App is the easiest way to block malicious trackers and badware on your device.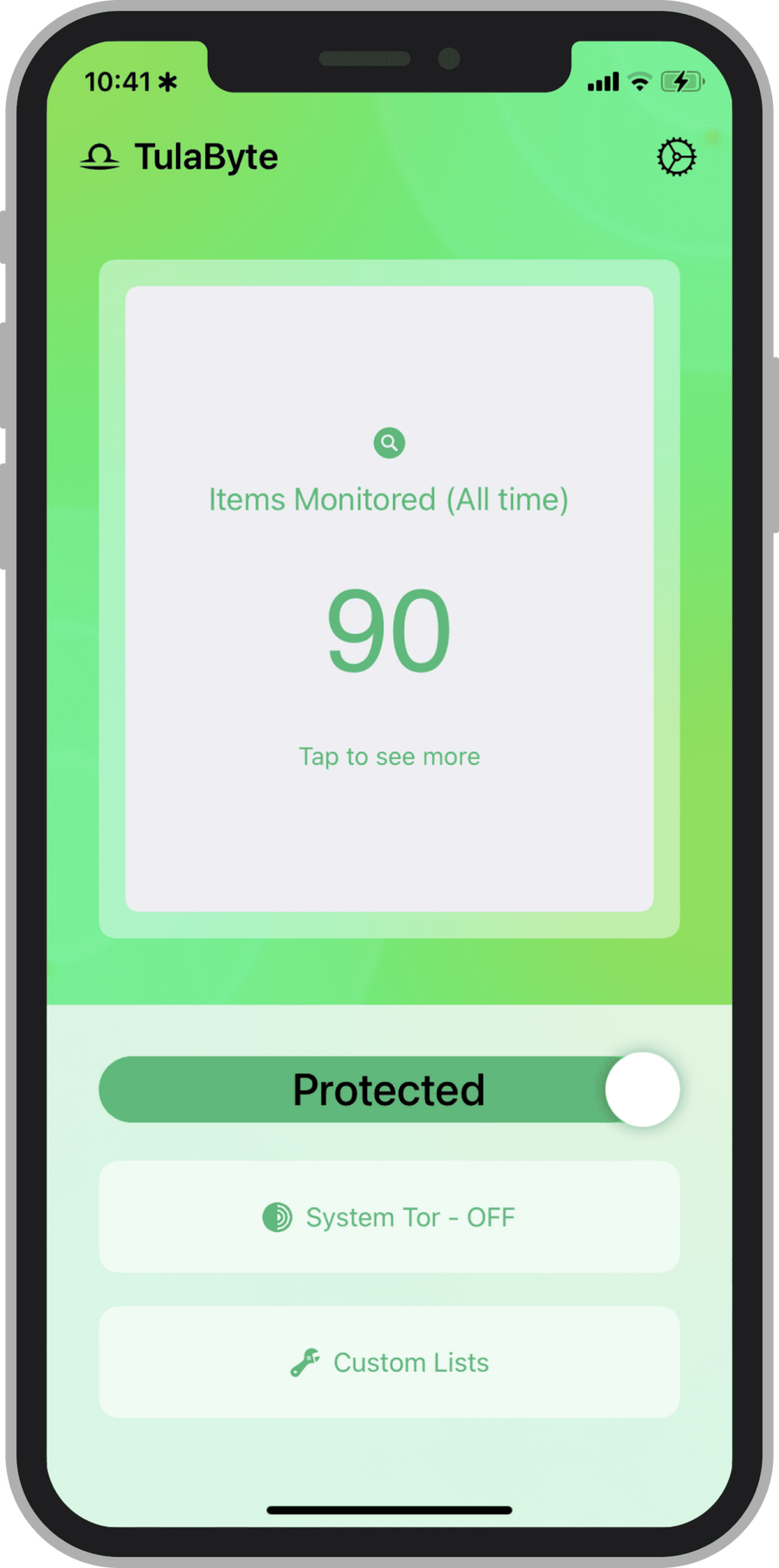 ---
---
---
Privacy on the Internet is Broken
Hundreds of hidden trackers follow your every move online. Every move you make on and offline is being logged and reported.
They know who you are. They know where you are. They know what you think.

Can anything be done about it?
---
---
---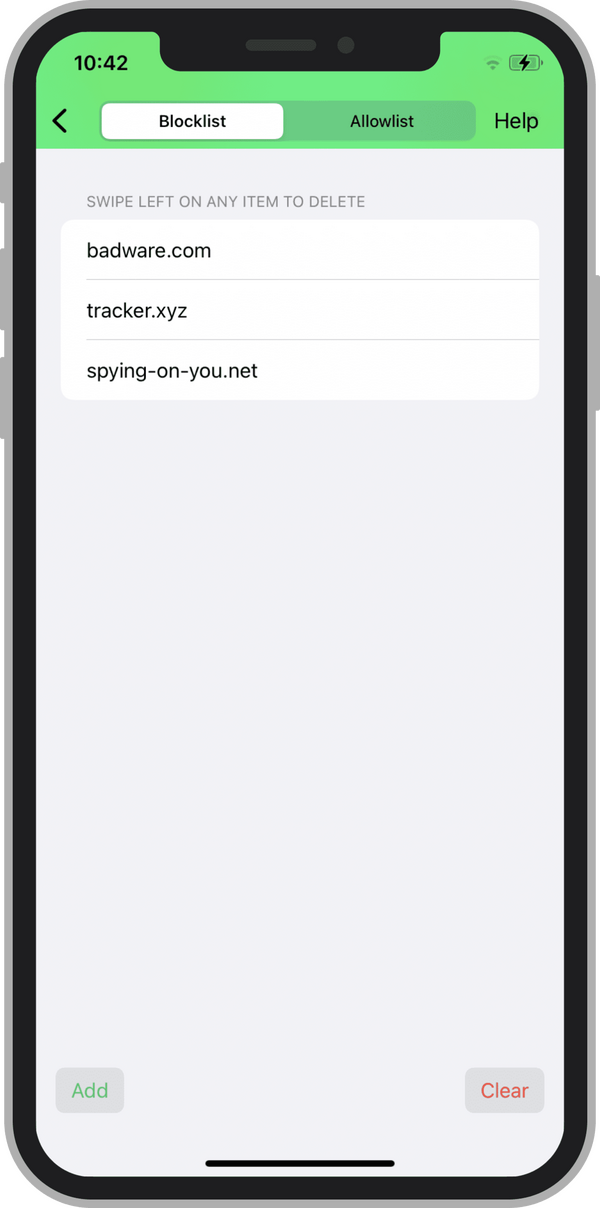 We take your privacy very seriously. Our site & apps use no tracking technologies whatsoever. No Cookies. No Trackers. No Spyware. No Analytics.
---
Privacy-Friendly Protection
Our app acts like a firewall, blocking trackers and badware before information can leave your device.

TulaByte is wholly resident on your device. That means we have no access to your data.
Ever.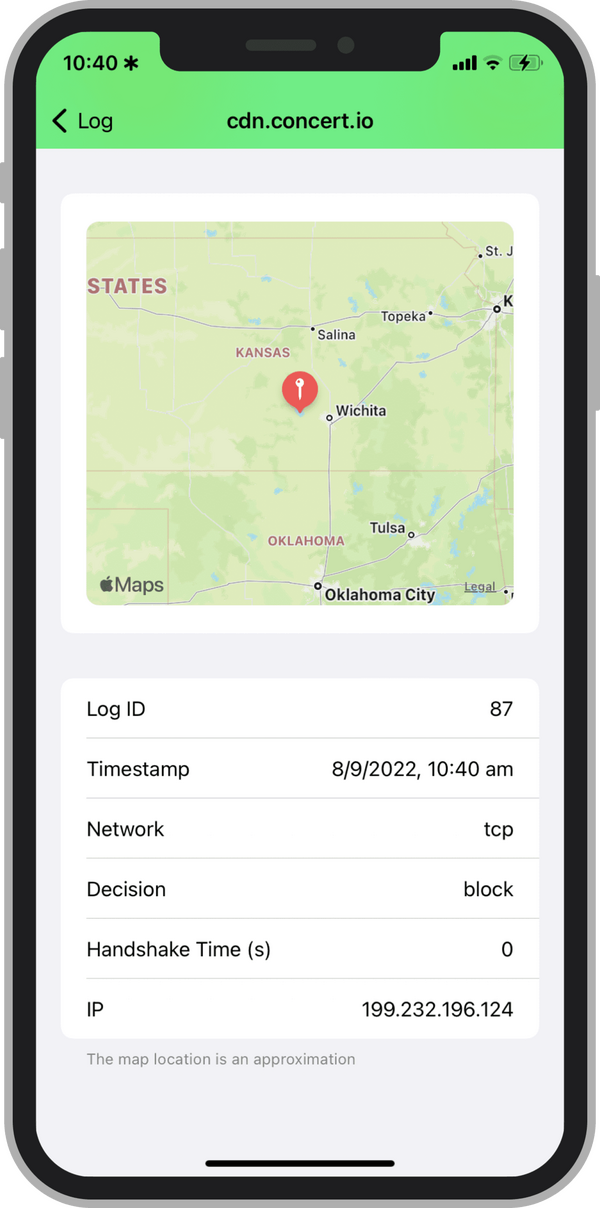 Inclusions and Benefits

A powerful tool in the hands of the user with User-Controlled, Customisable Lists.

Over 3000 malicious tracking attempts prevented daily per user.

Performance benefits – 35% average reduction in data usage and 29% average improvement in battery life.
No Nonsense Pricing
Our business model is simple.

We charge a subscription fee and work only for our users. No Ads. No Affiliate Marketing.

We are completely user funded.
| Plan | Individual | Family |
| --- | --- | --- |
| Price | $1.99 / year | $4.99 / year |
| Access | Single Apple ID* | Upto 6 Apple IDs* |
| Custom Lists | Included | Included |
*A single Apple ID will let you use the service on all devices associated with that ID
---
Our VPN alternative is under development. Sign up to the Bulletin to find out when it launches. Or subscribe to TulaByte to get it the day it launches.
Sign Up to our Bulletin
To let you know when we launch other products that help with your privacy. No spam. No selling of your email address to anyone.
---
Donate
At TulaByte, we're proud to be completely user funded. That means we only work for you. Thank you for your donation. We highly appreciate your assistance. Together, we can help in bringing about a balance to the digital privacy space.
---
Contact Us
If you need support or if you just have some questions, you can contact us at hello@tulabyte.com or fill out the form below and we'll get back to you.
---
Why / Us
We're the first to admit that we don't have all the answers. We're just two blokes (a first year college student and a middle aged layed-off guy for those who are really interested) doing something about an issue we feel strongly about. But we do have some of the answers. Hopefully, they're of use to you too.

Go ahead, get some balance in your bytes, use the Tula.
---
Tulā
(तुला)
(too - laa)
(Sanskrit --> tul-bhidā° aṅ)

A Balance; Equality; A Pair of Scales; Libra
---
The present state of affairs in the digital world, as far as personal privacy is concerned, is heavily skewed in the favour of big corporations.

This is because traditionally, privacy has always been thought of as protecting the individual from the state. No one else had the wherewithal to intrude on personal privacy in quite the same way that the state can.

All that has changed with the advent of the Internet.

Now, big companies have access to our private affairs to a degree that was unthinkable just a few years ago.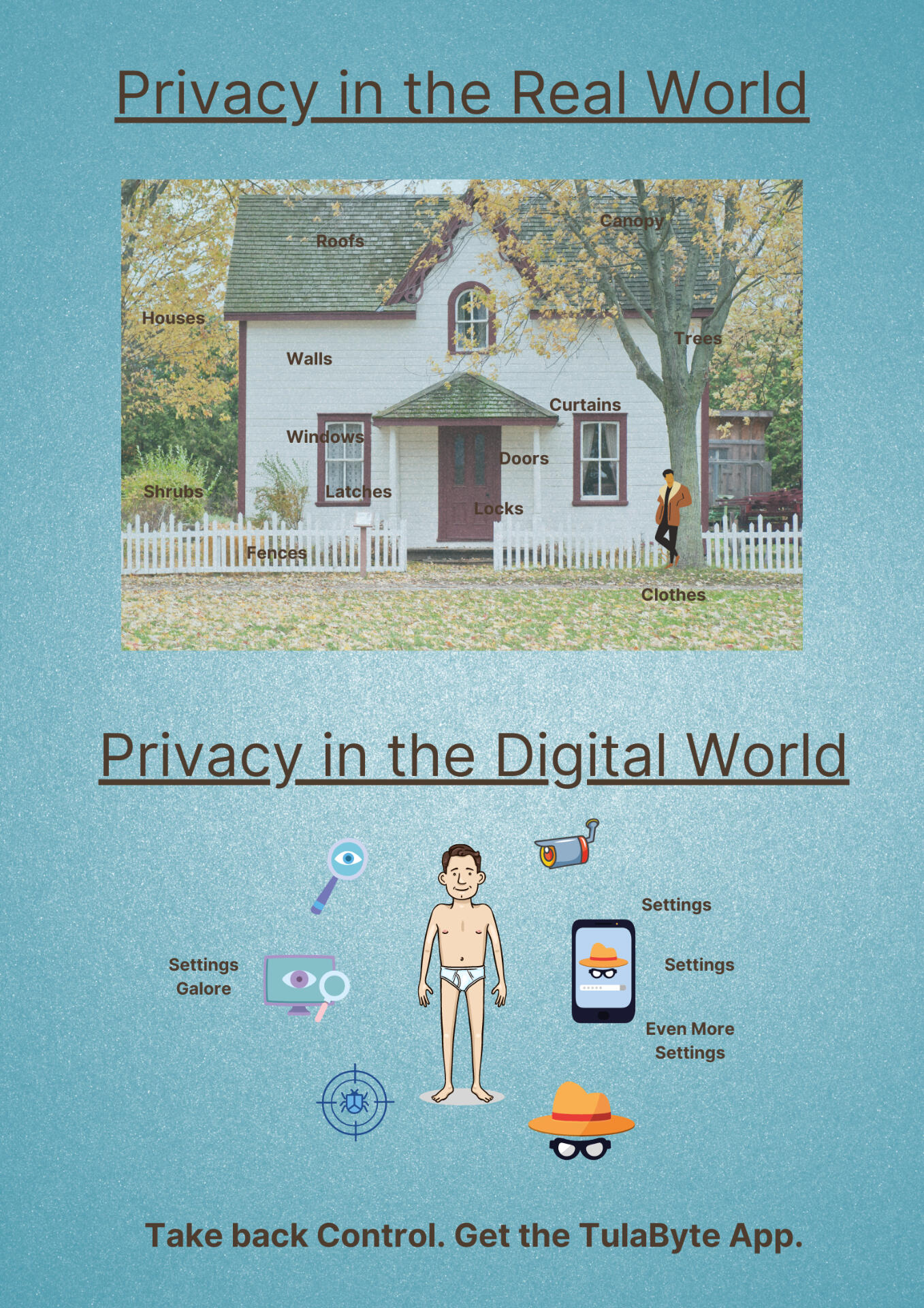 How lucrative is this mass surveillance?
Why has this state of affairs come about.

There are many reasons but two main ones stand out.

First, most ordinary users of the internet aren't aware that they're being surveilled, or don't appreciate the scale at which it's happening.

You can't change what you don't know about.

By change, we mean taking concrete steps to do something about it. For example, get your government to pass laws to restrict this mass surveillance, or download tools to stop it happening in the first place.

Second, no one is making any tools that allow ordinary people to do anything about it.
At TulaByte, we're in the same boat as you. We're concerned about our privacy online, but despite being digitally savvy (we think), we could find no easy way to take some control of it.

So we set out to do just that.

Our aim is to bring about a balance in the playing field. We plan to do this by developing tools that will let us do this in the best & simplest way, at the cheapest price possible.

To ensure that we ourselves don't become beholden to the same corporate interests, we're completely funded by our users. This means our efforts are supported by donations and subscriptions.

We collect no data about our users, we've ensured that we can't, and nor do we ever want to.
The above Infographic tries to encapsulate where the digital world is today, and our vision for the future.

Some of the ways we're looking to achieve this are shown in the infographic gallery below -